Body Sculpt Guide:
4Dlipo is an amazing alternative to liposuction offering non-surgical fat removal, cellulite treatment and skin tightening for the body, A one off treatment for stubborn pockets of fat where fat cells are frozen resulting in a reduction of 20-40% of the fat in the pocket. Or it can be an continued treatment followed with a high fat, low crab (keto) diet to help maintain the weight and keep it off.
Unlike any other Machine in Aberdeen our machine can focus on 4 different areas of the body at once!! Most areas of the body can be worked on.
A consultation of the treatment Must be booked in for any new 4Dlipo clients, before any full treatments are carried out.
What Are The Different Treatments:
4D Cryo Freeze (full name Cryolipolysis)  is often referred to as fat freezing, which causes the cells to freeze, shrink and damaged- the body then responds by cleaning away these shurink and damaged cells. This stimulates a natural far removal process that continues for several months after the actual procedure.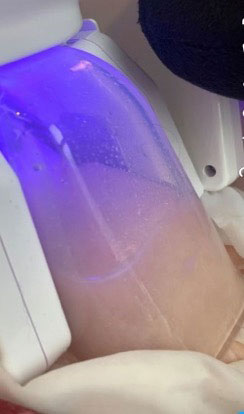 4D cavitation is a natural phenomenon based is low frequency ultrasound producing a strong wave of pressure – a fat cell cant withstand this pressure and disintegrates into a liquid state, and is then processed by the body's natural mechanisms.
4D-Radio frequency (RF) can be used for either
Skin Tightening – for Body
Smoothing of Cellulite
It Helps to drain away the damaged cells and any excess waste produced. It also helps bring a healthy flow of blood to the affected area. Used after cavitation to improve the appearance of the skin and the smoothness of cellulite. This helps speed up the process of eliminating fat cells.
4Dlipo
Consultation: 15mins FREE OF CHARGE
One sessions: 5 Hours £295
Buy two get one Free: 5 Hours p/s £590
Brazilian bum lift
One session: 2 Hours £99
Buy two get one free 2 Hours £198